Chinmay Jaju: Hey Everyone! I'm currently a student at Yale University, majoring in mechanical engineering. I am a FIRST Robotics alumni from team 846, and I'm suffering from FIRST withdrawal syndrome. I always love watching youtube videos and reading articles about cutting edge robotics research. My mission with this blog is to inspire others the same way I am inspired! I plan to post articles and short videos that share the "cool factor." Enjoy, and please feel free to contact us with comments or suggestions!

Diane Wang: Hi! I'm Diane, a current junior and Public Relations Officer of FIRST Team 846. To me, the most amazing thing is having the opportunity at demos to see kids running to their parents to have the chance to drive our robot and learn about science and technology. Rest assured, this project will open that opportunity up for me more often than I think. My goal for my last year on the team? Keep this blog updated, thriving, and inspiring to everyone that sees it!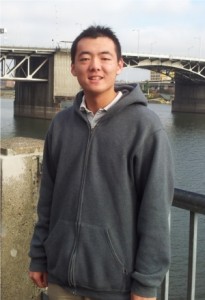 Robert Ying: Hey! I'm Robert, one of the developers of this site, and as a second-semester senior, I'll soon be graduating out of direct involvement in FIRST Team 846—this is my opportunity to continue to inspire an interest in STEM in as many people as I can reach. I'll probably be continuously finding and fixing new bugs in the website, so please feel free to report them!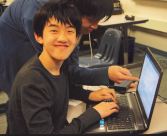 Tony Peng: Hi, people! My name is Tony, another developer of this fine website. As a freshman, I see this  as a great way to get involved with the team, and a great way to do what I love — programming! I hope that through reading the posts that you will discover the amazing aspects in the field of robotics, and I sincerely hope you'll enjoy this website as much as we've enjoyed working on it!
Raphael Chang: Hello Everyone! I'm Raphael, also an enthusiastic developer of this amazing website. As this is my first year in robotics in FIRST Team 846, I hope all of you will be inspired by the amazing technology today just like I was. Through this website, I hope everyone will discover all the exciting new things in robotics. I extremely enjoy developing for this great website, and I hope all of you will enjoy being inspired by it as well!
Matt Wang: Hey everyone! My name's Matt, and I write articles for the website. Even though it's my first year doing robotics with FIRST Team 846, I already realize how epic of a subject it is. I love learning about the newest robots and the cool things they do, and I'm glad to be able to share them with everyone! I hope that you'll have as much fun learning about cool new robots that I will!
Joshua Yuan: Good day my fellow robot lovers! I am Joshua and I explore every corner of this website looking for bugs and new things for me to learn. I've also edited a ton of your photos in the Gallery. I am a first year member of FIRST Team 846 and I enjoy working with robots as well as reading things about robots Because Robots are a pathway to success!  Please read and enjoy this website and learn from all the wonderful articles!
Michelle Chang: Hey there! I applaud you for taking the time to read this far down. I'm currently a resident Junior of FIRST Team 846, whose interests include neuroscience, robotics, web design, painting– anything really. I've always wanted to analyze the science involved in cartoons like Young Justice (yes, you read that correctly)… But who cares about me? Get browsing and start dreaming about the cool things you can do with science and technology!
Brent Yi: Hey, my name's Brent! I'm sure you've noticed that this site's pretty brilliant. Like, really brilliant. (in my opinion, anyways) Which is why it's so awesome to be able to work on it, and have the opportunity to both help out on the website's development and write articles, while discovering all of these incredible robots written about by my fellow bloggers. Browsing Because Robots is just about as great as the internet gets– it's inspirational, educational, and best of all, incredibly fun!